Resources
Preparation Groups for Early Permanence Carers
This workbook, presentation and trainers manual are designed for early permanence training and preparation groups. The preparation groups will explain the concept of early permanence, what it entails, and the benefits and challenges for the child and carers.
Care for Me First Programme Evaluation
The Care for Me First programme, funded by a DfE Practice Improvement grant, aimed to improve early placement for young children via Fostering for Adoption and Concurrent Planning within London.
Early Permanence in the Regional Adoption Agencies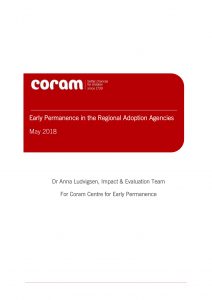 The overarching aim of early permanence is to give children stability in their lives by avoiding repeat moves and broken attachments. Instead of placing the uncertainty on children, adult carers are asked to manage the risks and possibility of loss.
This research project, commissioned by the Early Permanence Expert Working Group, focuses on how early permanence features within the Regional Adoption Agency model. It explores the developments being made in this area of practice, the challenges faced and ways to overcome them.
Findings from a longitudinal study of early placements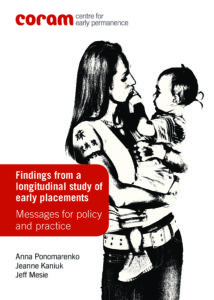 This report provides key findings from the 2017/18 extension study with 12 families (10 drawn from the original sample) the first ever sample to be followed through concurrent planning over such a long period.
Whilst numbers are low, the qualitative approach summarises the policy messages for wider practice derived from the experience and testimony of early placement and compared, where appropriate, to other wider studies.
What is concurrent planning like?
Hear about the experiences of a couple who adopted their daughter through Concurrent Planning. Video courtesy of First4Adoption.
Legal Seminar Series
The Legal Process and Achieving Early Permanence for Children Seminar
16 March 2017, the London Courts
Chaired by HHJ Robin Tolson QC
Contains:
'Fostering for Adoption: a child centred development?' – John Simmonds, Director of Policy, Research and Development, CoramBAAF
'Early Permanence Placement' – Alexandra Conroy Harris, Legal Consultant, CoramBAAF
'Coram's experience of managing concurrent planning placements since 1999 – lessons & outcomes' – Jeanne Kaniuk OBE, Managing Director of Adoption, Coram
Coram and Cafcass Early Permanence Seminar
6 June 2017, the Foundling Museum
Chaired by District Judge Celia Dawson
Contains:
'Early Permanence' – Anthony Douglas CBE, Chief Executive, Cafcass
'Guardian's role in foster to adopt placements' – Clea Barry, practice supervisor (public law), Cafcass
What people are saying about Coram and Early Permanence
'Essex Adoption Agency was very keen to develop an Early Permanence Programme. The advice and support we received from the Coram Early Permanence Centre was invaluable in helping us to develop our policies and practice in this area. Network Days have provided a stimulating forum in which we can share best practice, bring our worries and benefit from practitioners and other related professionals presentations. The practice in Essex is now firmly embedded, with over 30 children benefiting from being placed with dually approved carers, most from the point of reception into care.' – Essex Adoption Agency
'Over the last 20 years of being a family judge, one of the most inspiring initiatives I have seen develop has been Early Permanence Placements (EP). EP keeps the focus on the welfare needs of the baby, enabling that child to be cared for by specially trained carers who will lovingly return the baby to the birth family if that is the decision of the court, or will otherwise keep the baby as their own. Everyone in the case has the reassurance of knowing that the baby will have the chance to build a relationship with the birth parents through contact, but will at the same time develop a strong attachment to the EP carers, an attachment which can be transferred to the birth parents, or will continue with the EP carers. Particularly at a time when care proceedings are taking longer, I know how important this is for that child's whole life, and I very much hope that local authorities all over the country will work towards achieving the QM or the Working Towards best practice award.' –  Lynn Roberts, DFJ for Central Family Court